£54.00 £60.00
£54.00 £60.00
£58.50 £65.00
Customer Reviews
04/01/2022
Elizabeth

United Kingdom
Excellent
Bought theses as a gift - the recipient is delighted with them . Delivery quick and slippers seemed very good quality
30/12/2021
Barry G.

United Kingdom
Glerups boots
Excellent. Daughter was delighted with her gift. I was very happy with the service.
13/12/2021
Shannon D.

United Kingdom
Cute booties and reasonable shipping time
I love my new Glerups and my husband loves his as well. I got the rubber sole and he got the leather. We are wearing them all the time in the house and our feet are quite cozy for it. He got the better end of the stick though because it's now fully my job to make trips to the bin as he claims mine are up to the task and his aren't. So if you don't want to be the new designated bin runner I recommend the leather soles!
13/12/2021
Neil K.

United Kingdom
Repeat Purchase
I bought Glerup slippers for my wife last year and she loved them so much she asked for the rubber soled type this year. The others are still looking great and wearing well but the rubber sole will make it easier popping outside or into the garage. The service from My Little Wish was great as usual, very quick dispatch and nice to have the slippers in an attractive bag.
08/12/2021
Leslie S.

United Kingdom
Good speedy service
Bought a pair of Glerups slippers, which my mother-in-law claims are warm and comfortable, so much so she wants to ware them outside, and takes them with her visiting. They were delivered quickly, and as described, couldn't ask for more.
23/11/2021
Lynda P.

United Kingdom
Wonderful shoes and service
Isolation is a joy with these slippers, they are so comfy I never want to go out! My little wish have the best prices and service too. So well packed too.
18/11/2021
Kim P.

United Kingdom
Safe pair of feet!
These were my second Glerups boots bought from My Little Wish - I wore the first pair almost continuously when I was shielded during lockdown which meant that they were definitely worth the money! They did get a bit battered as a result though and I had no hesitation in rewarding myself with a second pair and was glad to be able to buy them from the same company. They were delivered fast, and were beautifully packaged.
16/11/2021
Lynda P.

United Kingdom
brilliant slippers and service
I don't want to leave the house anymore, as it means taking my slippers off. They are glorious! The company could really not be more helpful and kind. Beautifully packed. If you want to be someone's favourite person, get them a pair of these, they are so so good.
04/05/2021
Richard P.

United Kingdom
Great slippers
Fantasticly compfy
29/03/2021
Catherine L.

United Kingdom
Lovely slippers & fantastic customer service
The slippers were lovely so I was disappointed that they didn't fit (too loose around my narrow ankles). The customer service was excellent from initial contact (they were out of stock, but let me know once in stock), to a smooth return process with postage paid label emailed to me for the return & prompt refund received.
08/03/2021
Julia G.

United Kingdom
Glerups Boots with rubber soles - cranberry - GR-07-00 a
Loving these new slippers, gorgeous colour cosy and comfortable. Haven't had them long enough yet to comment further
03/03/2021
Dan L.

United Kingdom
I'm really pleased with my purchase
I bought a pair of Glerups slippers from My Little Wish, and I'm really pleased I did. The website was easy to use, well priced and the service quick and pleasant. I really appreciated the handwritten note too - a lovely personal touch. Could have done without the tote bag: some people will appreciate it, I'm sure, but I'm now swimming in free tote bags in my house!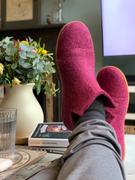 05/02/2021
Anna L.

United Kingdom
Glerups slippers and Brexit!
I went to order slippers directly from Gelrups in Denmark but because of new Brexit restrictions they weren't able to ship to the uk and they recommended 'my little wish'. I'm glad they did, I hopped straight onto the live chat and asked if they had any in stock, I got a super speedy reply and I had slippers on order within 5mins. They arrived just a couple of days later. Super little company and I would order from them again in the future.
13/01/2021
Penelope.Mrs Leith

United Kingdom
Still perfect
As I have said before, this is a great company selling fantastic products. That's why I keep going back for more!
22/12/2020
Constant C.

United Kingdom
Delighted customer
So pleased with these slipper boots: warm, comfy, stylish and with the rubber soles means I can also nip outside wither changing my footwear. Highly recommended.
03/12/2020
Caroline H.

United Kingdom
Fab service fab Glerup slipper boots.
This is my second pair of glerups from my little wish. I hardly had my first ones off in the three years I wore them and decided to treat myself to a new pair with the rubber soles. My old ones now relegated to my camper van. Service was great as was last time with a personal touch. Would define recommend not just the slippers but the company too.