£60.00
£60.00
Customer Reviews
04/01/2022
Elizabeth C.

United Kingdom
Recent Purchase
Excellent service and product would use again
04/01/2022
Pamela W.

United Kingdom
So comfortable
Excellent - I have bought these Glerup Boots over the years. They wear extremely well and I love them.
01/01/2022
Jennifer K.

United Kingdom
Best slippers ever
I already had a pair of low cut glerups that I love, and wanted to try the boot version. I live in them all day for several years now and they still look as good as new. You won't be disappointed!
27/11/2021
Nathalie Z.

United Kingdom
Very good shop
Excellent purchase quality and prompt delivery! Thank you
07/05/2021
Sammy A.

United Kingdom
Glerups slipper boots
These slippers are a dream! Really good quality and so comfy. My little wish were great at helping us get the specific slippers we wanted - fabulous customer service with a really appreciated personal touch. Many thanks!
23/03/2021
Claudia W.

United Kingdom
One pair is never enough
So happy to have a scandi product without having to worry about vat and tax due to brexit.
24/02/2021
Pam P.

United Kingdom
Excellent service
Fantastic service, thankyou
04/01/2021
Jo W.

United Kingdom
The best slippers ever
Second time purchasing these slippers, this time for my son. Nothing can beat a pair of natural material slippers, your feet stay a decent temperature and do not get too hot or cold. These slippers are the best, so comfortable, very stylish and I will only ever purchase these!
28/12/2020
ANNA J.

United Kingdom
Glerups boots
I purchased these boots at the request of my daughter for a Christmas present and she absolutely loves them. They were beautifully packaged and a lovely colour of forest green. Thank you for making her Christmas.
28/12/2020
Christian B.

United Kingdom
Always good service - 3rd year uisng
I am Danish - so biased - the Glerups are the best Slippers on the planet.
12/11/2020
Hazel B.

United Kingdom
Hazel brown
My niece had some last year and has use them every day as she has been suffering cancer on the brain and had 8hr op which she had boots on all the time as the was awake to be able to talk to the surgeon Hazel brown
16/10/2020
Mike L.

United Kingdom
Happy warm, wide feet!
Loving my new Glerup Boots, keeping my feet warm as Autumn begins to take hold in Scotland. Had been looking for slippers for a while but struggled with my wide feet, even donating a pair of recently bought expensive alternatives to my son as they were just too narrow. No such problem with the Glerup's though, comfy and spacious and moulding to my feet nicely. The rubber soles means taking the bins and recycling out is no problem either. Thoroughly recommend these quality items.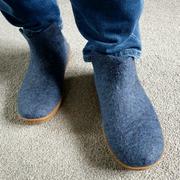 09/10/2020
g m.

United Kingdom
Perfect
Perfect, that's all that needs to be said... just perfect.
11/08/2020
Steven W.

United Kingdom
Perfect home footwear
I love my Glerups boots. They're perfect for wearing around the home, whether it's cuddling up on the sofa, slipping into after being out and about or waking up in the morning and grabbing breakfast. They're comfortable from the first time you put them on and they're cosy yet breathable. They shape to your feet over time and just get more and more comfy.
31/07/2020
Ian M.

United Kingdom
Second pair
My wife was so jealous of mine that I had to buy her a pair as well.
18/06/2020
Ros D.

United Kingdom
Green boot slippers
This is the 2nd pair that my Son in Law has - loves them